Hey there! Alyssa here with the story of Day 7, our second to last day on the trail. 
We woke up on the morning of day 7 to cold, cold temperatures. I sat up and hit my head on the wall of the tent, immediately setting off a small avalanche of frozen condensation straight into my sleeping bag. Will and I debated whether we should stay in bed for a few minutes in hopes that things would warm up, but ultimately decided that we were too deep in the canyon to see sunlight any time soon. As we slowly peeled ourselves out of our toasty sleeping bags and into the frigid air, I started to realize just how cold it had gotten the night before. Shoelaces were frozen in place, refusing to be tied. The water in our bottles was solid almost all the way through. As we continued to pack (frozen tent stakes are the worst!) our fingers and toes joined the long list of "things that are frozen."
We warmed up quickly as we hiked downhill, hot blood pumping from our cores out to the extremities which had gotten chilled while we were packing. In other words… screaming barfies! "Screaming barfies" is the term for the immense pain that occurs when you quickly re-warm cold extremities. It's a searing, electric feeling that throbs through your fingers and toes and up into your belly, which makes you want to puke your guts out. Common side effects are crazy limb contortion, uncontrollable jumping up and down, and loud, nonsensical vocalizations. Needless to say, we were quite a pair.

As the barfies subsided, we started to notice the incredible scenery around us. The sun appeared above the nearby ridge, illuminating blades of grass that had been encased in ice. Small trout circled lazily underneath a clear sheet of ice spanning the Tuolumne River, as if in a natural aquarium. And best of all, the sky was bright blue with no signs of big storm clouds. 
Eventually, morning turned into afternoon and the sun grew higher, melting the ice veneer and unclenching winter's grasp, until we were firmly back in a gorgeous fall alpine day. Behind us, Donahue Pass proudly guarded the path to the high country; and ahead: just a few miles of flat, sandy trail to the Tuolumne Meadows backpacker camp and general store. 
We arrived at Tuolumne Meadows right at the moment I needed it most. My feet were starting to complain about the damp, warm conditions of the day's hike, and my energy levels were running low (turns out it's hard to get a good night's rest in single digit temps.) We knew the General Store would be closed for the season, so we found a nice spot on a flat rock to dry out our sopping gear, relax our legs, and drink a cup of coffee.

Always one to try to get ahead of the game, I wanted to push on as far as we could to make the next day (our last day) as short as possible. Fortunately, my new husband is cut from the same cloth, so we altered our original plans and decided to camp at Sunrise Meadows rather than Upper Cathedral Lake, ticking off an additional 4 miles of trail. 
The hike to Cathedral Lakes was quick and easy, and getting up and over Cathedral Pass was even easier. It was fun to reminisce about the last time we'd hiked this stretch of trail in 2013, going the opposite direction. It's much easier going North! Just for fun, here's a photo of us right before we went over Cathedral in 2013.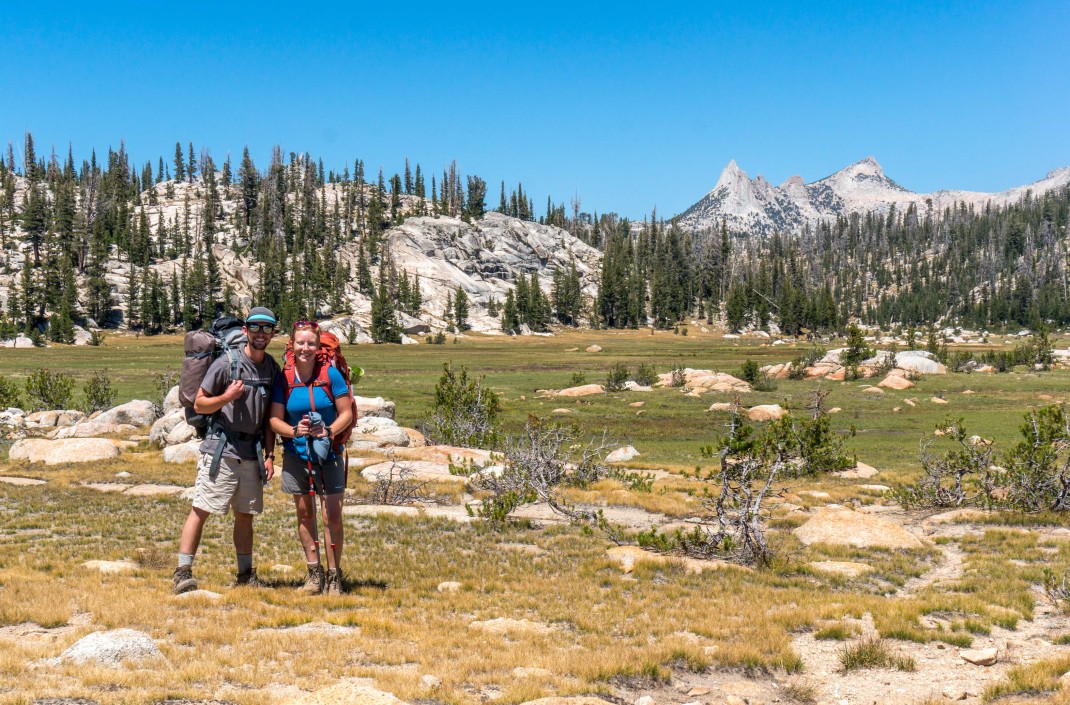 Now, back to the honeymoon!
We finally arrived at Sunrise Meadows just as the sun started to set. We knew that there was camping here, but hadn't seen any when we came through in 2013. After a few minutes of poking around we discovered that there are a ton of campsites just west of the trail on a terraced hill overlooking the meadow.
Lonely for a little company, we wandered over to a nearby campfire we had seen from the trail. It turned out to be two college women on their first backpacking trip. They told us all about the night before – they had hiked up through rain and snow, arriving at their campsite sopping wet. Fortunately, they were well prepared and made it through the night just fine. We were so impressed at their resilience… there is no way I would have hiked 6 miles in rain and snow on my first backpacking trip. 
We snuggled into bed for our last night on the trail overlooking some incredible alpenglow on the distant peaks, many of which we had walked by in the previous two days. As we drifted off to sleep we discussed the trip so far, and our sadness that it was coming to an end. We were both disappointed that this adventure was coming to an end, but so looking forward to a long hot shower at the end of the following day!