Day 8 of our John Muir Trail Honeymoon series… bet you thought we'd never get this posted! Well, joke's on you (Mom) because here it is.
We woke up early to another frosty morning. This campsite – like the one before it – was pretty sheltered and deep in shade, so rather than hanging around camp we kept our warmies on and hiked quickly to try to get the blood moving.
This section, from Little Yosemite Valley to Tuolumne Meadows, was one that Will and I hiked together on my first thru hike of the JMT in 2013. During that trip we were going the opposite way, and I remember feeling overwhelmed at the thought of the many, many days of hiking that lay before me. It's incredible how perspective can change over just a few short years!
After hiking for about an hour we reached a rock outcropping that gave us an awesome view of the surrounding peaks –a perfect spot for some hot breakfast, since we were still feeling the chill from the night before. Coffee and Clif bars were just what we needed.
Toward mid-morning we traversed through a new burn zone that hadn't existed in 2013. It's always amazing to me how full of life burn zones are. At first glance it looks barren and dry, but the trees were full of birds and squirrels, new plants were growing, and streams were flowing. (Still pretty hot to hike through, though.)
As soon as we hit the Half Dome trail junction we started passing the swarms of Yosemite Valley day hikers. Over the past 8 days we'd seen only a handful of hikers… not more than two or three groups per day! JMT/PCT season was winding down, but Half Dome season was apparently in full swing. I know we raised some eyebrows as we made our way down, down, down past day hikers who thought we were way overdressed and over prepared for "just a walk up the Mist Trail."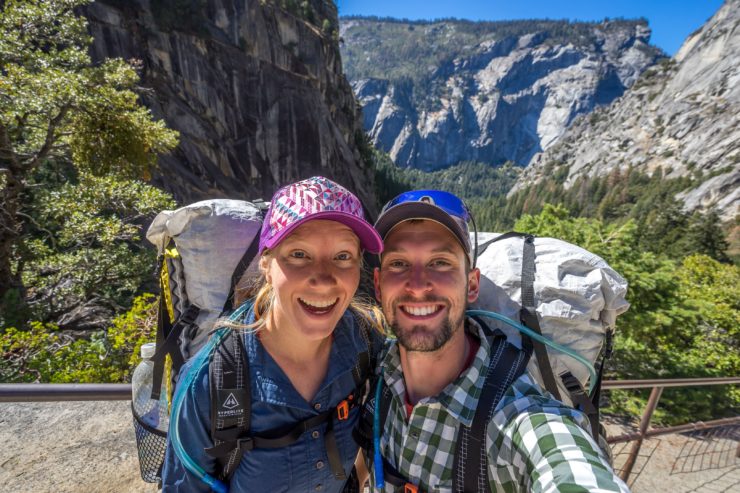 Walking down the Mist trail was challenging with my sore feet, made even harder by all the folks coming up. Eventually we made it down the trail, across the bridge, and onto the pavement. We asked a sweet older couple to take our photo and excitedly moved on to Phase 3 of our honeymoon… a night at the prestigious Ahwahnee Hotel!
Our stay at the Ahwahnee was just what we needed after 8 grueling days on the trail – a delicious, over the top dinner, comfortable bed, and hot shower.
Thanks for following along on this adventure with us! Please share your adventure honeymoon in the comments!